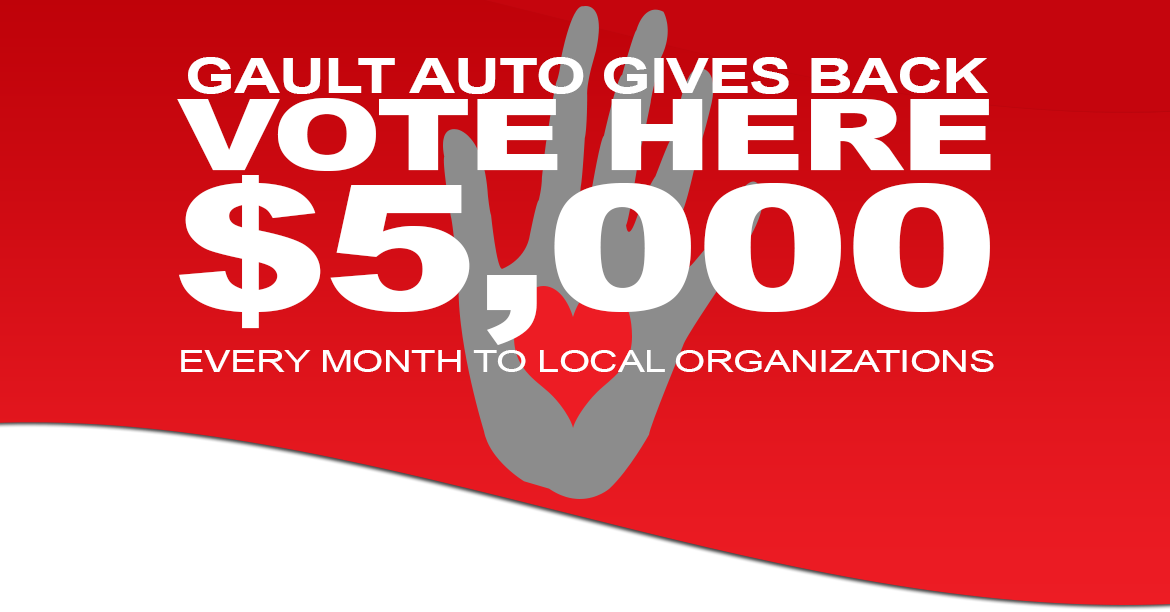 GAULT AUTO GIVES BACK - $5,000 EVERY MONTH
Gault Auto is going to donate $5,000 each month to local organizations. Two local charities will win $2,500 each month. One charity will be decided via social media/customer selection and one chosen via a committee. Each organization can win up to 2 times during the calendar year!!
The first drawing will occur on January 31 2017 followed by the last week day of the month.
REQUIREMENTS
Organization must be located in Broome County or Tioga County and directly benefit these areas.
Organization must register with and be accepted by Gault Auto to be part of the program. Once the organization is accepted, they will be eligible for participation each month starting with the following month.
The two organizations chosen must be:

a 501(c)3 organization in good standing;
registered with and accepted by Gault Auto one month prior to first contest month for which organization wishes to be eligible.
HOW IT WORKS
Each month Gault Auto will make one official Gault Auto Gives Back post soliciting votes on its Facebook pages listed below:
TAG-FOR-POINTS: Facebook users can tag the organization of their choice in the comments on the three Gault Auto Gives Back posts. Each Facebook user can only vote one time per day on the post. Each tag counts as one chance in the contest.
OTHER CHANCES
Gault BMW, Gault Chevrolet, Gault Toyota and The Auto Liquidators
Buy a car and receive 10 chances at time of delivery to vote for your favorite organization.

WINNER: Contest is run similar to a raffle, each tag from social media or vote from time of delivery the organization receives increases their likelihood of winning. Each month, Gault Auto will announce the winners on Facebook and contact the organizations to claim their prize. The two winning organizations will each receive $2,500 for a total of $5,000 monthly. Each organization can win a maximum of two times per calendar year.

Gault Auto reserves the right to reject contest participants and organizations for any reason. Gault Auto reserves the right to change contest rules at any time.